Create a personal calendar for your family by adding their birthdays and anniversaries. Or print out "blank copies" with major holidays and observances.
This set contains 15 calendar sheets, one for each month, two for December and two front covers.

"No text/dates" version is also included.

Calendar pages are designed to fit to an 8 1/2 by 11 inch page.



Several months also include an uplifting quote.
Every now and then I find a quote that sparks my creativity!!!
And this year I came accross a good one (for the month of April).


"If all the showers turned to flowers, We'd have quite a colorful day!"

Just imagine fields and fields of endless flowers and scents...
I just love it.
And I hope you'll love it, too!

Printable e-book, sized for an 8 1/2 by 11 inch page size, is also included.

You can edit text areas just below numbers. A notes section is also editable.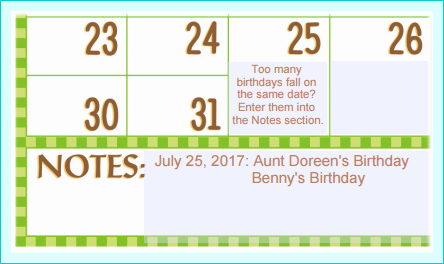 Version with Canadian Holidays and British Holidays (A4 Page Size, Monday start) are also included.