Recipe Card Templates on CD-ROM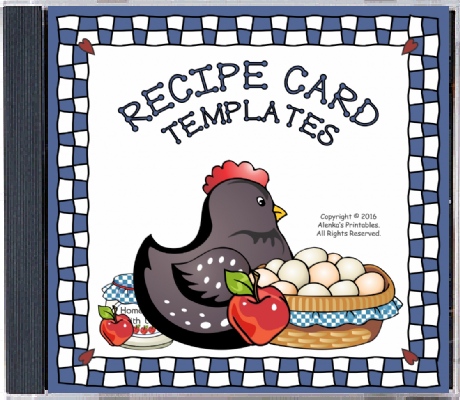 Editable Recipe Card for MS WORD


Recipe Card Templates CD




Please download a sample template to make
sure you'll be able to work with these. Thanks!

DOWNLOAD SAMPLES



This CD contains the following 4"x6" and 3"x5" recipe cards templates for Microsoft Word on a Windows system:





To use templates you will need Microsoft Word installed.

For users without Microsoft Word, an alternative is to use templates for Acrobat Reader. This CD includes over 200 templates for Acrobat Reader.

All recipe cards are unlined.

For best results use white card stock (8 1/2" by 11" or A4) and trim away white areas from each card.

Kitchen Keepsakes, That's Italian, Cooking 1, Cooking 2, Winter 2, Gingerbread and Floral Collection, comes in both 3"x5" and 4"x6" recipe card sizes as well as 6"x5" and 8"x6". These are large recipe cards that are double in size and leave lots of room for writing.



The rest of the card templates below are only available in standard sizes 4"x6" and 3"x5".



Recipe Card Templates will be sent on a CD.




Only $24 You save: $76.86!

(Shipping is free.)

This is a one time charge and does not repeat.





All major credit cards, checks and money orders are accpted.

To pay with Debit or Credit Card,
please click on "Pay with Debit or Credit Card" button.
You do not need a Paypal account.



Do you have any questions? Please contact me.