Gingerbread Joy 2, Cookies and More Collection - Standard and Large Recipe Cards
This collection includes 12 - 3"x5" and 4"x6" and 10 - 6"x5" and 8"x6" recipe card templates for Microsoft® Word
on a Windows® system and copies in a .pdf file format for Acrobat Reader.



SAMPLE RECIPE CARD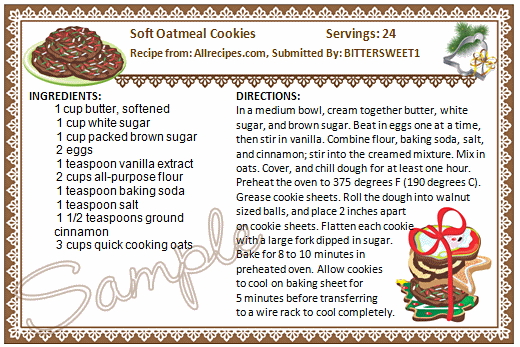 Here's a sample recipe so you can see the new format in action.
Please note, there are NO recipes on actual templates.





4"x6" SAMPLES


Designs are available in both 3"x5" and 4"x6" recipe card sizes as well as 6"x5" and 8"x6".
These are large recipe cards that are double in size leave lots of room for writing.

6" x 5" recipe cards fold down to a standard 3" x 5" card.
And 8" by 6" fold down to 4" by 6".



Some clipart is by Trina Clark at digiscrapkits.com