YOU ARE HERE: >>> PRINTABLES >>> CALENDAR, PRINTABLES




CD Case Desk Calendar




Calendar comes with a matching gift bag or a gift box,
12 calendar sheets for 2017, 2018, 2019, 20120 and 4 for the remainder of 2016; blank cards and a CD cover.
This makes a great gift!


Materials needed:
You will need a standard CD case that has a removable CD tray.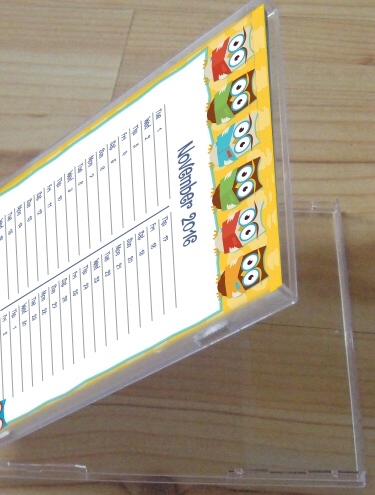 Transform the case into a free standing frame.
Click here for a side view of a CD case turned into a stand up frame.
---
Assorted CD Calendar Cards with Snowman Box



LARGER VIEW



This set contains:
12 calendar cards for 2017, 2018, 2019, 20120 and 4 for the remainder of 2016
(Each card is different, you can preview samples here. It's a 2017 Calendar and designs used are the same, only smaller and square shaped to fit into the CD case.),
1 blank card (unlined),
1 front cover,
1 gift box.


E-book You can add your text on the front cover, blank insets and next to the dates on calendar sheets. Dates, week days and month cannot be changed.

Price: $4.99

ADD TO CART


---
Pansy Tea Party CD Calendar Printables



LARGER VIEW



This set contains:
12 calendar cards for 2017, 2018, 2019, 20120 and 4 for the remainder of 2016,
1 blank card (unlined),
1 front cover,
1 gift box.


E-book You can change text on the front cover, blank cards, you can also add text next to the dates on calendar cards. Dates, week days and month cannot be changed.

Price: $4.99

ADD TO CART


---
Viola Pansies CD Calendar Printables



LARGER VIEW



This set contains:
12 calendar cards for 2017, 2018, 2019, 20120 and 4 for the remainder of 2016,
1 blank card,
1 front cover,
1 mini qt. fold card,
1 gift box.


E-book You can change text on the front cover, blank cards, you can also add text next to the dates on calendar cards. Dates, week days and month cannot be changed.

Price: $4.99

ADD TO CART


---
Lavendar Blossoms CD Calendar Printables



LARGER VIEW



This set contains:
12 calendar cards for 2017, 2018, 2019, 20120 and 4 for the remainder of 2016,
1 blank card,
1 front cover,
1 mini qt. fold card,
1 gift box.


E-book You can change text on the front cover, blank cards, you can also add text next to the dates on calendar cards. Dates, week days and month cannot be changed.

Price: $4.99

ADD TO CART


---
Snowmen CD Calendar Printables



LARGER VIEW



This set contains:
12 calendar cards for 2017, 2018, 2019, 20120 and 4 for the remainder of 2016,
1 blank card,
1 front cover,
2 gift boxes.


E-book You can change text on the front cover, blank cards, you can also add text next to the dates on calendar cards. Dates, week days and month cannot be changed.

Price: $4.99

ADD TO CART


---
Gingerbread Joy CD Calendar Printables



LARGER VIEW



This set contains:
12 calendar cards for 2017, 2018, 2019, 20120 and 4 for the remainder of 2016,
1 blank card,
1 front cover,
1 mini qt. fold card,
1 gift box.


E-book You can change text on the front cover, blank cards, you can also add text next to the dates on calendar cards. Dates, week days and month cannot be changed.

Price: $4.99

ADD TO CART


---
Polar Bears CD Calendar Printables



LARGER VIEW



This set contains:
12 calendar cards for 2017, 2018, 2019, 20120 and 4 for the remainder of 2016,
1 blank card,
1 front cover,
1 gift bag.


E-book You can change text on the front cover, blank cards, you can also add text next to the dates on calendar cards. Dates, week days and month cannot be changed.

Price: $4.99

ADD TO CART


---
Candles CD Calendar Printables



LARGER VIEW



This set contains:
12 calendar cards for 2017, 2018, 2019, 20120 and 4 for the remainder of 2016,
1 blank card,
1 front cover,
1 gift bag.


E-book You can change text on the front cover, blank cards, you can also add text next to the dates on calendar cards. Dates, week days and month cannot be changed.

Price: $4.99

ADD TO CART


---
Father's Day CD Calendar Printables



LARGER VIEW



This set contains:
12 calendar cards for 2017, 2018, 2019, 20120 and 4 for the remainder of 2016,
1 blank card,
1 front cover,
1 gift bag.


E-book You can change text on the front cover, blank cards, you can also add text next to the dates on calendar cards. Dates, week days and month cannot be changed.

Price: $4.99

ADD TO CART


---
Yee-haw CD Calendar Printables



LARGER VIEW



This set contains:
12 calendar cards for 2017, 2018, 2019, 20120 and 4 for the remainder of 2016,
1 blank card (lined and unlined),
1 front cover,
1 gift tag,
1 gift box.


E-book You can change text on the front cover, gift tag, blank and lined cards, you can also add text next to the dates on calendar cards. Dates, week days and month cannot be changed.

Price: $4.99

ADD TO CART


---
Cabin CD Calendar Printables



LARGER VIEW



This set contains:
12 calendar cards for 2017, 2018, 2019, 20120 and 4 for the remainder of 2016,
1 blank card,
1 front cover,
1 mini qt. fold card with envelope,
1 gift box.


E-book You can change text on the front cover, blank cards, you can also add text next to the dates on calendar cards. Dates, week days and month cannot be changed.

Price: $4.99

ADD TO CART


---
Fishing CD Calendar Printables



LARGER VIEW



This set contains:
12 calendar cards for 2017, 2018, 2019, 20120 and 4 for the remainder of 2016,
1 blank card,
1 front cover,
1 mini qt. fold card with envelope,
1 gift box.


E-book You can change text on the front cover, blank cards, you can also add text next to the dates on calendar cards. Dates, week days and month cannot be changed.

Price: $4.99

ADD TO CART


---
School Owl CD Calendar Printables



LARGER VIEW



This set contains:
12 calendar cards for 2017, 2018, 2019, 20120 and 4 for the remainder of 2016,
1 blank card (lined and unlined),
1 front cover with gift tag,
1 gift box.


Graphics are in .PNG format.

E-book change text on the front cover, box front, gift tag, blank and lined cards, you can also add text next to the dates on calendar cards. Dates, week days and month cannot be changed.

Price: $4.99

ADD TO CART


---
Dear Teacher 2 CD Calendar Printables



LARGER VIEW



This set contains:
12 calendar cards for 2017, 2018, 2019, 20120 and 4 for the remainder of 2016,
1 blank card (lined and unlined),
1 front cover,
1 gift box.


Graphics are in JPEG format.

E-book change text on the front cover, box front, apple shaped gift tag, blank and lined cards, you can also add text next to the dates on calendar cards. Dates, week days and month cannot be changed.

Price: $4.99

ADD TO CART


---
Dear Teacher 1 CD Calendar Printables



LARGER VIEW



This set contains:
12 calendar cards for 2017, 2018, 2019, 20120 and 4 for the remainder of 2016,
1 blank card (lined and unlined),
1 front cover,
1 mini qt. fold card with envelope,
1 gift box.


Graphics are in JPEG format.

E-book change text on the front cover, box front, apple shaped gift tag, blank and lined cards, you can also add text next to the dates on calendar cards. Dates, week days and month cannot be changed.

Price: $4.99

ADD TO CART


---